Web Service & Support Guarantee
Our web service & support guarantee is provided to all clients who have an annual maintenance plan with us and is included with all new web design projects. It gives you the peace of mind that our experienced team of specialists are always at hand should you need help with your website, email or other provided web services.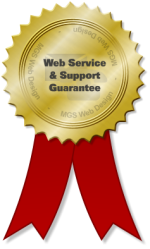 With every annual maintenance plan we guarantee:
Email & phone support
Management, maintenance and technical support for hosting and domains
No charge for minor content changes (eg. one or two text changes every 30 day period)
Website updates and other web services charged at a very competitive rate
Our CMS maintenance plan also includes:
Content management system maintenance & support
Our E-Commerce maintenance plan also includes:
Shopping cart system maintenance & support
All maintenance plans and guarantees are valid only upon full payment of purchase price. Guarantees do not apply for deposits or partial payments.
Consultations are available by apointment only and are charged at an hourly rate.